Our Chimneys venue features an updated wooden lodge building that evokes a historic feel. Inside, there are three event rooms which can be configured for seating, dancing and buffet service however you would like.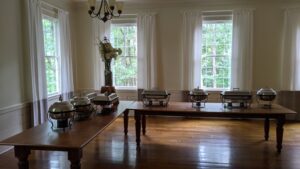 Our incredible wrap-around porch is also large enough for seated alfresco dining. You and your guests can easily move from indoors to out.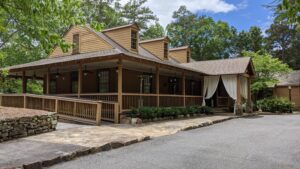 Our flagstone-covered outdoor patio can serve as the perfect ceremony or cocktail reception area and additional dining seating capacity. Here you'll be treated to sweeping views of the mountains, woods and Lake Sconti and get to relax by our namesake – the incredible outdoor chimney!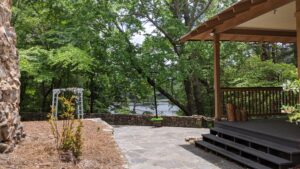 Amanda White – Wedding & Special Events Manager
Amanda works tirelessly to ensure each of her clients are taken care of from start to finish & they enjoy the planning process of such a special occasion. Her ability to assist with any type and style of event, combined with her ability to connect with any personality, make her a valuable asset in creating your next unforgettable event experience. 
The Chimneys is a wonderfully romantic setting… and the service, attention to detail, and atmosphere were all excellent.
Xavier
Catering Services
Our food and beverage services here at The Chimneys are absolutely incredible. The Big Canoe Clubhouse staff handles all your needs so you never have to give a second thought to the cuisine and service being perfect.
Activities and Lodging
Not only do you get the entire Chimneys location when you host an event here, but there are countless activities available within Big Canoe for you and your guests to enjoy, as well! From golf and tennis to canoeing and swimming, you will have your pick of how to spend your day. 
More Locations for Your Event
We can offer our event and catering services at not just the Chimneys venue, but also within the Big Canoe Swim Club, the Big Canoe Lodge and The Clubhouse at Lake Sconti! So, if you are dreaming of a weekend-long event or overnight retreat, we can offer you many options for just the right atmosphere.
Every detail was taken care of and the setting was magical. The staff took great care of us and anticipated our every need.

Amy