The Chimneys Weddings
The Chimneys has long been a beloved wedding venue. For those seeking that feeling of a destination wedding close to home, you've come to the right place! We offer a gorgeous log building with three beautiful rooms and a wrap-around porch, as well as a very large flagstone patio that is the home to our namesake towering outdoor stone chimney.
The Chimneys at Big Canoe is set in an awesome natural setting that really set the tone for our wonderful wedding day and evening. We plan to come back to spend an anniversary or two exploring the thousands of acres of green space, lakes and mountains!

Amy & Bob
No matter the season, The Chimneys at Big Canoe is beautiful and event-perfect! Your ceremony can take place either indoors or outdoors. For an indoor ceremony, you can choose to use one of the beautiful rooms in The Chimneys building or the Big Canoe Chapel, just down the road. We can offer a shuttle service for guests to the chapel for the ceremony and back to The Chimneys for your reception.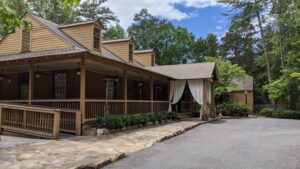 For an outdoor ceremony, the patio experience is really stunning! You and your guests will enjoy a most meaningful time set amidst sweeping views of the North Georgia Mountains, Lake Sconti and the wooded area above and surrounding the Big Canoe Golf Course below.
From the ceremony, it's on to cocktails, which can be enjoyed outdoors on the patio or indoors, if you prefer. Imagine your guests sipping libations and listing to music while taking in the fresh mountain air. Or, your cocktail reception can take place inside one of The Chimneys' beautiful rooms while your dinner reception is set up outside!
The Chimneys Venue Capacities
The Tavern Room: 80 Seated
The Lake Room: 60 Seated
The Buffet Room: Typically used for service, but can accommodate dancing or additional seating.
The Finest Wedding Catering
Is Part of Your Package!
Our wedding catering is incredible and you can be certain that every wish you share with Kristen will be brought to fruition! Our chefs will prepare a seated dinner featuring beef and fish or a buffet with amazing BBQ, there is no limit to what you can dream up.
I knew as soon as I stepped onto the patio that we had to get married here. (I saw the third green on Lake Sconti as I looked over the railing toward the main clubhouse!)

Regis
Other Details
We offer a whole host of wedding details that you and your guests will truly appreciate from valet parking and full linen service to shuttles and booking of activities.
Activities and Lodging
Not only do you get the entire Chimneys location when you host your wedding here, but there are countless activities available within Big Canoe for you and your guests to enjoy, as well! From golf and tennis to canoeing and swimming. 
More Locations for Your Wedding Weekend
We can offer our event and catering services at not just the main Chimneys venue, but also within the Big Canoe Swim Club, the Big Canoe Lodge and the Clubhouse at Lake Sconti! So, if you are dreaming of a weekend-long event, we can find the right spot to host your rehearsal dinner before you enjoy your wedding day at The Chimneys!